Oku Japan's community presence
While our head office is located in the historic capital of Kyoto, we prioritise maintaining connections to the communities where we operate. The Kumano Kodo is a trail that founder Matt Malcomson felt a deep affinity for long before the trail began gaining international recognition, and in 2015 we opened our branch office in the small village of Chikatsuyu. Locals stop by on a daily basis for a chat, some tea, or simply to say hi.
Later in 2019, after more than 10 years of building connections in the post town of Tsumago on the Nakasendo Trail, we were welcomed by the locals to open our second branch office. Operating out of a traditional kominka home.
We welcome guests and local friends alike.
We invite you to peruse our pages dedicated to our efforts in these destinations, and we are excited to warmly welcome you on your next visit!
Community
Total Immersion into the local communities
Peace of mind
You can enjoy the Trail while we take care of the rest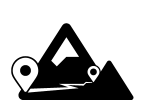 Personalized itinerary
Detailed day-by-day itinerary and walking directions
Safe Travel
Extensive COVID-19 counter-measures for your safety
Subscribe to our newsletter
Get our latest news and offers delivered right to your inbox